Inrotech-Crawler | Adaptive Multipass Welding Technology
The Inrotech-Crawler is a highly advanced state-of-the-art piece of robotic welding technology, which has the potential of revolutionizing the welding business. Although it includes advanced technology, it is extremely easy to use: Install the titanium rails in a proximate distance to the welding groove. A few options like: welding wire type, groove design ect. have to be selected on the intuitive user interface.
Define start and stop points and press "start". The robot now automatically identifies the welding groove by means of a line scanner and automatically calculates the number of passes, location of each pass, welding speed and weaving pattern; no matter position or plate thickness.
The weight of the robot carriage is approximately 45 kg.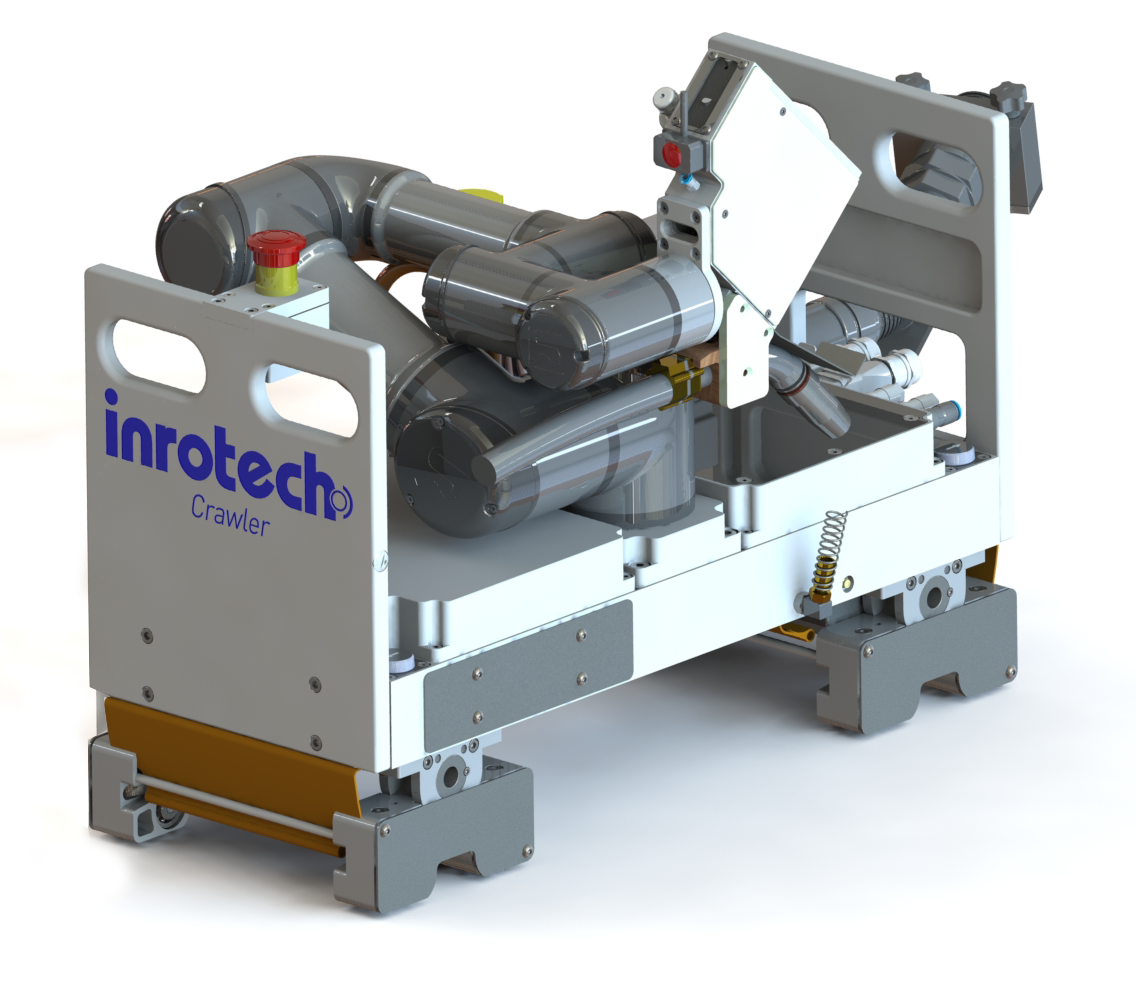 GET TO KNOW OUR INROTECH-CRAWLER
Inrotech uses a very small robot which is placed on a carriage running on a flexible rail system, which is fixed to the substrate by means of switchable magnets. These ensures a safe dependable fixation to the substrate (as long it is magnetic).
The rails are made of titanium, which is both flexible and strong. They come in standard lengths of 3m but can be adjusted to any desired length.
INTERESTED IN HEARING MORE ABOUT OUR INROTECH-CRAWLER ROBOT?
ADAPTIVE MULTIPASS WELDING
The Inrotech-Crawler has the ability to target a large number of welding jobs in the global industries. Butt-weld connection and other connection types requiring multipass welding, almost no matter shape or position, is a potential welding target for the Inrotech-Crawler.
Obvious targets are; large pipes connections (in- and outside), assembly of blocks in shipbuilding, Storage tanks, Construction, renewables and many more.
Can be employed in workshops or at construction sites
FLEXIBLE ROBOT IN ALMOST ANY POSITION
The Inrotech-Crawler can be positioned on flat or curved surfaces (down to 1 m. radius). In vertical or horizontal position (even over-head positions).
The rails can be joined to any desired length. The operator must position the rail within a proximate distance from the weld groove, so it is within reach of the robot. When the rail is in position it is fixed by simple switchable magnets and can easily be disconnected again.
Finally, the operator just has to give very few commands or even just press START to initiate the fully automatic scanning and welding process of the Inrotech-Crawler.
You may also be interested in
The Inrotech-MicroTwin is a compact and light weight gantry featuring 2 small robots, welding machines and a scanning system for identifying stiffeners on panels.
The Inrotech-Classic is a well proven product, which has been in operation in shipyards around the world for almost a decade.