Multipass welding with Adaptive Intelligence
WeldLogic offers the feature of welding multipass welding automatically, taking tolerances of the weldgroove into consideration and automatically compensating for variations. After an intensive development period, Inrotech launched in 2016 the WeldLogic technology as a complementation to SensLogic. The first systems were installed for the welding of the longitudinal joints in windtower sections. Today, WeldLogic Technology can be used in a wide range of industries.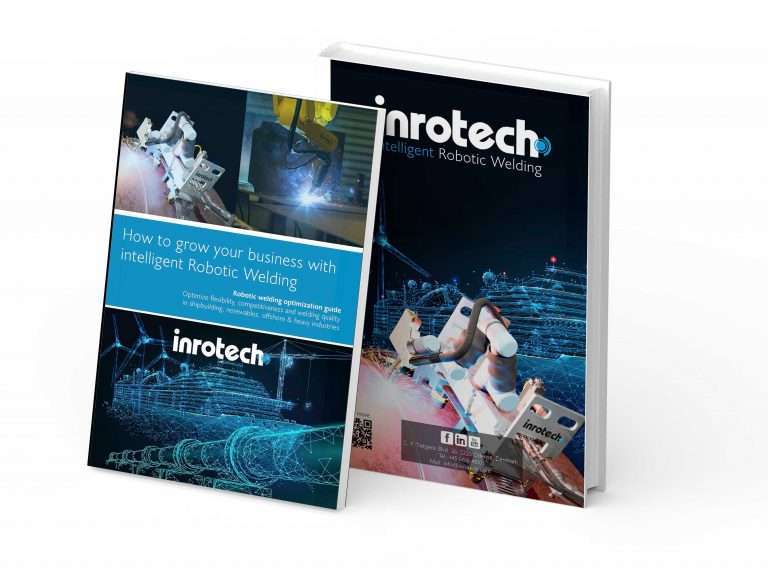 GET TO KNOW WELDLOGIC TECHNOLOGY
Learn how mobile welding robots can solve manufacturing challenges in your industry with WeldLogic Technology. 

Our industry eBooks dive into specific challenges faced by a variety of industries such as shipbuilding, renewables and many others.
INTERESTED TO LEARN MORE ABOUT OUR TECHNOLOGY PLATFORM?
100 % AUTOMCATIC MULTIPASS WELDING
Based on a scanning of the weldgroove, the system automatically plans the full welding process: number of passes, location of each pass and the appropriate welding parameters, given the allowed heat-input window, the groove geometry and the welding position.
Weldlogic today can be used for the welding of almost any weld groove design and in any position.—as long as there is physical access for the robot.
iNTERESTED TO LEARN MORE ABOUT OUR TECHNOLOGY PLATFORM?
WeldLogic is built upon Inrotech's accumulated welding experience within manual and robot welding. With this background, Inrotech has developed a mathematical model of the process window for each tested wire, which is essential to find the applicable process parameters. This process window takes the required heat-input into consideration and makes sure that the welds stay within these boundaries.
Because of the dynamic process window, Inrotech's WeldLogic system can change the welding parameters "on the fly", in order to adapt to varying groove geometry of significant proportions. The weldplanner generates a complete set of welding parameters for the whole weld, including welding speed, weaving amplitude, bead position etc., If the groove geometry changes during the weld, due to deformation, WeldLogic can detect this, and change the welding parameters accordingly.
Applications with WeldLogic Technology