The company's founder Flemming Jørgensen's vision is to make robotic welding systems that are as simple and easy to use as washing machines or dishwashers. The user does not have to think about what lies under the hood.
"We have brought robotic welding into a completely new dimension. I want our company to be the best, so we are always looking for the edge and the best technology available. We can do a lot by ourselves, but for those things that we don't do, we are looking for partners that cooperate closely with us", Flemming Jørgensen says.
Kemppi is Inrotech's main partner in power sources.
"Our projects require careful planning, designing, testing and implementation, so that is why we need good partners. Suppliers need to be willing to follow us in our development to provide solutions for our customers," Thomas Bøgner, Inrotech's Sales Director describes..
"We require flexibility, and Kemppi can provide that. Due to their effort, they are involved in 80 percent of our products at the moment.
A potent tool for integration
Inrotech has been integrating Kemppi's A7 MIG Welder in its robotic welding systems since 2017. The A7 MIG Welder's web user interface has stood out as a potent tool for the engineers, who can check out the welding equipment's settings at a considerable distance from the active system's location.
"A7 MIG Welder's web user interface allows us to go online to set the parameters, check the error log and see what the machine has been welding, whether it's in Spain or China. If you don't have that possibility, you need to travel to the machine," Rasmus Faudel describes.
According to Rasmus Faudel, customer support is not the only thing that has gotten faster with the A7 MIG Welder. "Integration with the robot is also now much faster. It takes just about five minutes to set up the system"
Inrotech's welding specialist Lars Madsen is engaged in setting the correct parameters and programs for welding. He has experienced the web user interface's effectiveness in practice.
"It has a variety of features, and you can weld anything you want with the special processes. Programs like WiseFusion and WisePenetration are very good in controlling the arc and achieving the repeatable quality needed in robotic welding. The machine itself is fast and easy to use, and the wire feeder stable," he commends.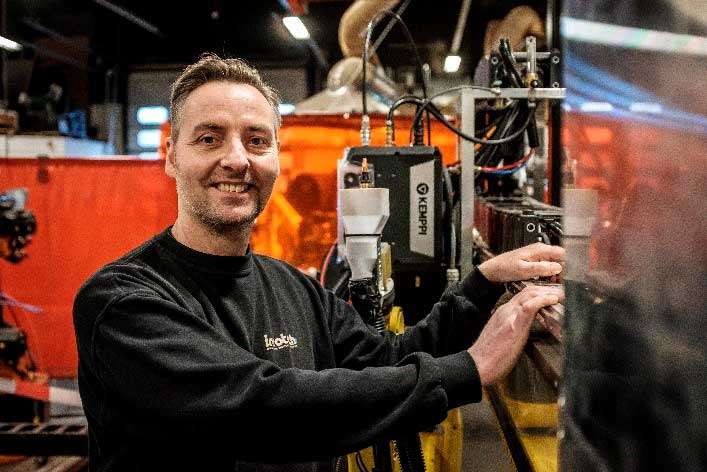 Inrotech's strong collaboration with Kemppi has now developed into Inrotech being a beta-tester for the new industrial multi-process welding x5 FastMig with a versatile arc welding powerhouse built with energy-efficient inverter technology.
Excellent local support
"For us it is important that Kemmpi's welding equipment is strong and reliable. The commands are clear, the connectors are solid, and the design is nice and compact. But since we often work at the limits, it is equally important that we have good support, especially for the more special functions that the machine can offer. In some cases we also need customized features", Rasmus Faudel explains.
With Inrotechs WeldLogic technology for instance, they are depending on an incredibly accurate wirefeeder on the push-pull system, which is connected to the Inrotech-Crawler. Here, Inrotech saw no other option than modifying the push-pull system by adding a servo motor and their own wirefeeder, while taking advantage of Kemppi's wirebox in order to push the wire accurately.
"This was not possible without Kemppi's corporation and flexibility. They provided us with a software update, giving us the signals we need in order to get an accurate and smooth wire feeding. Kemmpi is therefore an excellent partner for us. We are very satisfied with the support we get from Kemppi headquarters in Finland and local support", concludes Rasmus Faudel